Tuscany
The Mediterranean style
in your bathroom
Bathroom furniture

Configure your furniture
With our bathroom furniture configurator, you can design your ideal space to fit your room perfectly.
Choose the color, the handles… Start now!
Any questions? See our complete guide!
This bathroom asserts its character and opts for a warm, chic Provencal style. The flush-mounted profile handle in black or satin finish gives it a sleek look.
Available in 10 cm increments (from 60 to 120 cm).
The furniture in this range can enhance even the most cramped spaces, and is available with one or two drawers.
– Basin countertop available in 14 finishes.
– Available in 2 versions.
– A profiled handle at the fir tree.
Dimensions to the nearest millimetre must be confirmed with your CEDAM dealer.
Composition widths available every 10 cm from 60 to 140 cm
Flush-mounted aluminium profile handle, silk or matt black finish
The latest generation of double-walled metal drawers with full-extension and closing dampers.
61 cm
71 cm
81 cm
91 cm
101 cm
111 cm
121 cm
61 cm
GT – Grand tiroir | TA – Tiroir à l'anglaise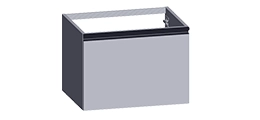 1 large drawer vanity unit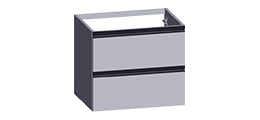 2-drawer vanity unit
601 x 512 x 455 cm
TOS01
71 cm
81 cm
91 cm
101 cm
111 cm
121 cm