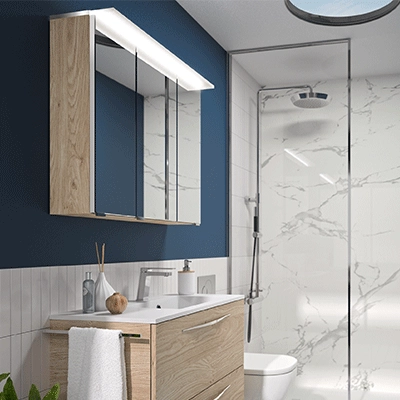 Toilet cabinet LED strips are flexible LED ribbon lights specially designed for installation in or around bathroom cabinets. They provide practical and decorative lighting to improve the visibility and aesthetic appearance of the mirror cabinet.
Illuminated methacrylate strip with integrated LED for mirror cabinet. 12V/IP44.
Stainless steel side trims. 30W converter.
60 cm – 597 x 14 x 240 – 11.5 W
BLED24.060.CH

70 cm – 697 x 14 x 240 – 13 W
BLED24.070.CH

80 cm 797 x 14 x 240 15 W
BLED24.080.CH

90 cm 897 x 14 x 240 17 W
BLED24.090.CH

100 cm 997 x 14 x 240 19 W
BLED24.100.CH

120 cm 1197 x 14 x 240 23 W
BLED24.120.CH

140 cm 1397 x 14 x 240 27 W
BLED24.140.CH