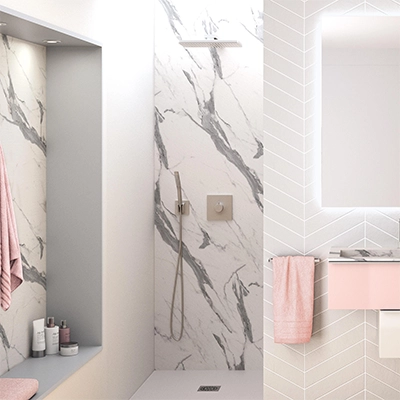 Now you can combine your shower enclosure with your extenso natura vanity top.
1.2 mm solution-dyed laminate panel or FENIX NTM ® 1.2 mm anti-fingerprint, soft-touch panel, on lightened rot-proof substrate, 11 mm thick. Maximum width 1250mm. Beyond that, the panels will be designed with a tongue-and-groove system (at mid-width) to ensure flatness.
The panels are glued to the wall using a mastic adhesive suitable for the substrate. The edges are raw, so the black core of the panel is visible. If the edge is visible, it should be finished with a tile-type profile. Specify L and H in mm. The pattern is always vertical.
H max: 3000
L max: 2500 (up to 1250 in 1 piece)
Minimum billing: 0.4 m².
Backgrounds for Natura plans