ICONIK
ELEGANCE AND SOBRIETY
IN ITS PURE STATE
Bathroom furniture

Configure your furniture
With our bathroom furniture configurator, you can design your ideal space to fit your room perfectly.
Choose the color, the handles… Start now!
Any questions? See our complete guide!
Iconik is the perfect alliance between the mineral appearance of the top and the premium matte finish of the fronts. Available in sizes up to 180 cm, the unit is entirely covered with a 12 mm full-body porcelain stoneware top.
Travertine, concrete or marble effect, the mineral trend is asserting itself in a raw, contemporary design.
Featuring a push-release opening system, the handleless drawers give a clean, minimalist look to the bathroom.
For the ultimate in luxury, the ceramic basins are the same color as the cabinet fronts. Particular attention has been paid to every detail: the mirror with integrated lighting and the Iconik shelf are fully coordinated with the bathroom unit, with a reminder of a ceramic band and a metal support to match the front of the unit.

– Undermount available in 6 decors.
– Single or double basin configuration.
– A range of products to complete the collection.
– Ceramic decorations
Dimensions to the nearest millimetre must be confirmed with your CEDAM dealer.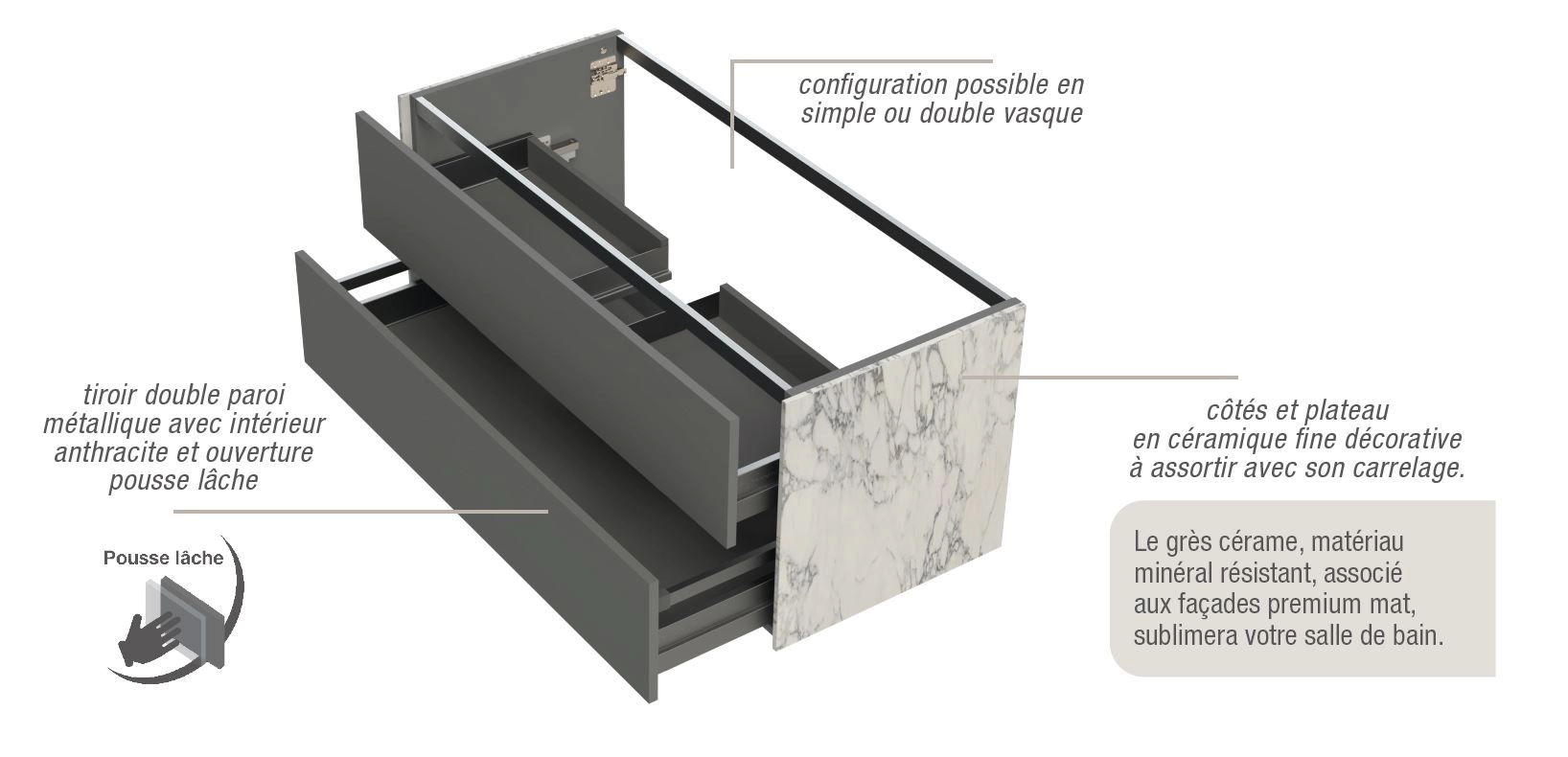 A light touch is all it takes to open the drawer smoothly
For an airy, minimalist effect
Solid, non-porous material
Available as a chest of drawers or dressing table
90 cm
120 cm
140 cm
150 cm
180 cm
90 cm
GT – Grand tiroir | TA – Tiroir à l'anglaise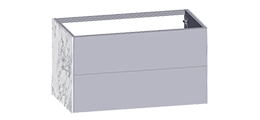 120 cm
140 cm
150 cm
180 cm
Countertops
Wall units
Additional storage
Sanitary
Countertops
Wall units
Additional storage
Sanitary