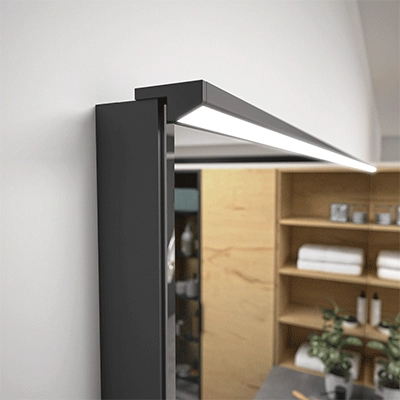 Linear LED strip lights, specially designed for installation around bathroom mirrors.
They provide practical and aesthetic lighting to enhance mirror visibility.
LED life is around 40,000 hours (approx. 5 years). Bulbs are not replaceable. Max. length 2500 mm. 9.6 Watts/m. Class II IP44, 30W LED ribbon. With converter.
Thickness 18mm. Anodized aluminum profile with matte black or matte aluminum side caps. Compatible with aluminum frame mirrors (including SAMIRG, MIR20SM, MIR27SM…).


60 cm – 600 x 12 x 35 – 6W –
RLED01.060.AL -RLED01.060.NM

90 cm – 900 x 12 x 35 – 9W –
RLED01.090.AL – RLED01.090.NM

120 cm – 1200 x 12 x 35 – 12W –
RLED01.120.AL -RLED01.120.NM

from 200 to 599 – from 200 to 599 x 12 x 35 – RLED01.SM1.AL – RLED01.SM1.NM
from 600 to 1000 – from 600 to 1000 x 12 x 35
– RLED01.SM2.AL -RLED01.SM2.NM

from 1001 to 1600 – from 1001 to 1600 x 12 x 35
–

RLED01.SM3.AL – RLED01.SM3.NM

from 1601 to 2500 – from 1601 to 2500 x 12 x 35
– RLED01.SM4.AL – RLED01.SM4.NM