Sur-mesure Extenso THE

CUSTOMIZED RANGE!
Do you dream of designing your bathroom in your own image, so that it perfectly matches your needs?
to your expectations, your needs, your interior and your decorating tastes?
Find out more about our Extenso collections, our concept for customizing
made-to-measure furniture, for a bathroom that adapts to your desires.
What exactly is an ideal bathroom?
For us, it's a bathroom that meets your needs and desires while maintaining our quality!
It's a room that's functional, warm and modern, perfectly suited to your every need. Whether for a
Whether you're looking for a quick stopover or a moment of well-being, Cedam is committed to providing you with the bathroom of your dreams!
With custom-made vanity tops in glossy reconstituted marble, natura (11 decors) …
Meets all requirements
with clever solutions
For very large spaces
up to 2.5 metres
Do you need to optimize the space between 2 walls?
The Extenso collection lets you create your vanity composition to the millimetre.
Choose your washbasin countertop
Today, the vanity top is one of the key elements of your bathroom.
Cedam's made-to-measure vanity tops give you real design freedom.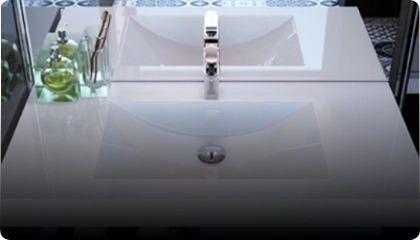 Resin washbasin countertops are unbeatable for theirease of daily maintenance.
Light, flexible and contemporary, this vanity top will fit perfectly into your bathroom.
Available from 60 to 250 cm in single or double basins, it's the perfect solution for any space. It can be used as a freestanding version or on furniture.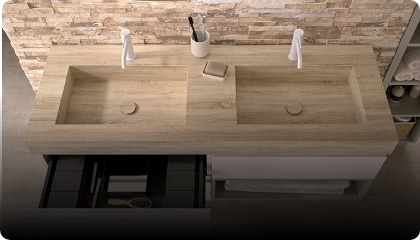 Modern and refined, the Natura washbasin countertop in laminate is resistant and durable.
Choose a thin vanity top for elegance and lightness, or a thick one for a solid effect.
Pleasant to the touch, NATURA vanity tops with integrated basins are available to the millimetre, from 60 to 250 cm. Choose from 10 finishes (wood, concrete, marble or ultra-matt Fenix) in single and double basins, with 3 different bowl widths.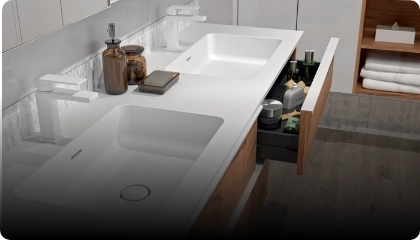 With its soft-touch effect, solid surface is easy to maintain and repair.
Elegant and stylish, our solid-surface tops feature a comfortable bowl depth.
Available made-to-measure from 60 to 250 cm, choose from single or double basins with your choice of center distance (min 60 cm).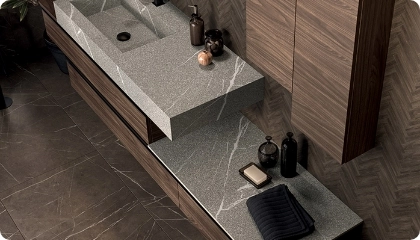 The porcelain stoneware washbasin countertop is one of the new products for 2022. Available in 6 ceramic decors, this made-to-measure top from 80 to 250 cm is highly resistant to scratches, heat, water and stains…
A 60 to 250 cm custom-made slimline top version is also available in 6 ceramic decors, for the addition of a countertop basin.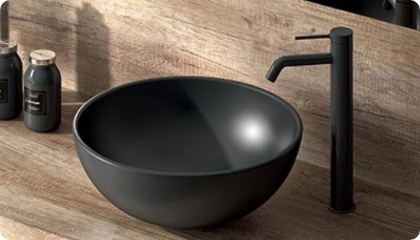 Available in various materials: laminate, melamine, Natura, porcelain stoneware, lacquer and solid surface,
choose your custom-made vanity top from 20 to 250 cm to add a countertop basin available here
Choosing your furniture and/or brackets

Choose from 3 handle models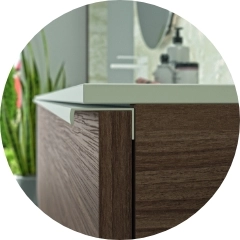 (high-gloss chrome, matte black or matte white)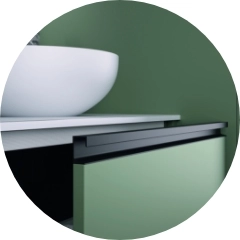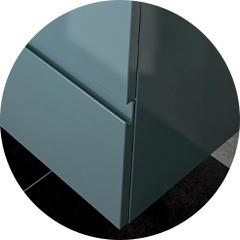 accessory furniture and accessories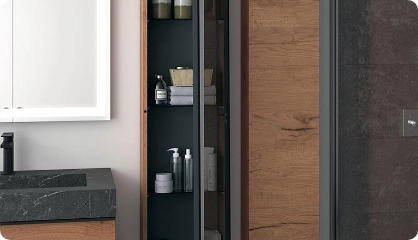 The Extenso collection offers a wide choice of columns and cabinets in shallow or deep depths for maximum storage.
The column with black frame and smoked glass lets you display your products like a shop window.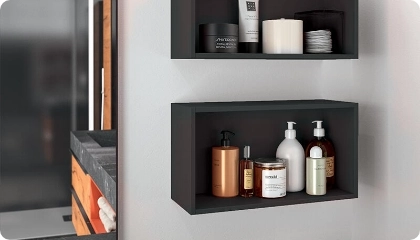 High elements such as open niches
create open and closed spaces.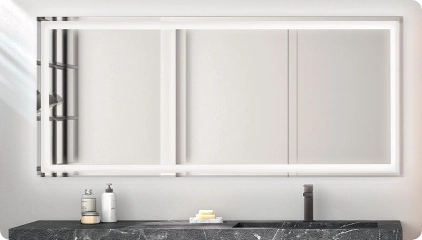 Choose from a wide range of mirrors
made-to-measure (with led backlighting, led frame…) to adapt perfectly to your furniture.