Because tidying up

has become a must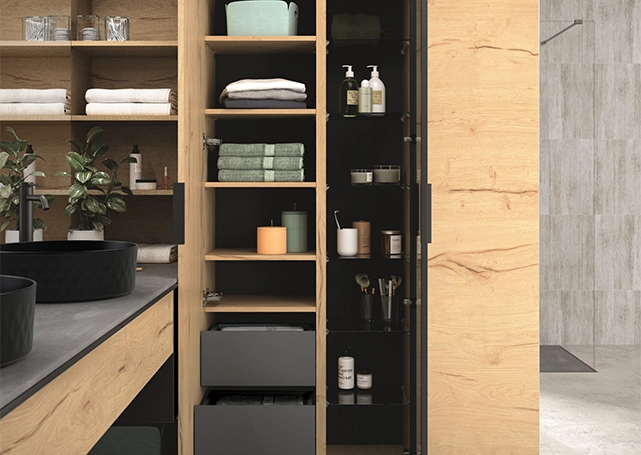 A WELL-ORGANIZED BATHROOM, IT'S A NECESSITY!
These days, we spend more and more time in our homes and in the
optimizing space in our homes has become essential. The
in one of the rooms where we spend most of our time, the bathroom, that the
daily frustrations accumulate: feelings of clutter, lack of space and
place and space not optimized.
With our made-to-measure storage program, furnish your home with
style and millimeter precision!
Multiply the number of elements (drawers, niches, columns….) to optimize each element.
of your room and make the most of every available space, from floor to ceiling.
ceiling.
STORAGE PROGRAM
MADE-TO-MEASURE
Fixed widths of 35 cm / 45 cm / 70 cm / 90 cm and custom widths
Fixed HEIGHTS of 51 cm / 82 cm / 133 cm / 190 cm
DEPTHS of 35 cm / 45 cm / 58 cm and 68 cm (for washing machine only)
SIDE AND FACADE DECORATIONS
E0.5 or CARB 2 class P2 chipboard
melamine
1mm ABS edgebands, polyurethane bonding for enhanced moisture resistance.
Gloss, matte, concrete or structured finish, with matching matte counterface.
Blue Angel-certified P2 chipboard, lacquered high-grade, UV-resistant multi-layer with 1mm ABS edge glueing
polyurethane for enhanced moisture resistance. High-quality extra-matt or high-gloss finish, matte underside
matching. Premium matte finish with anti-fingerprint treatment.

PREMIUM WHITE
mat MLB
glossy GLB PREMIUM CASHMERE
mat MCM
glossy GCM GREGE PREMIUM

mat
MGG
glossy GGG PREMIUM FOSSIL
mat MFO
glossy GFO