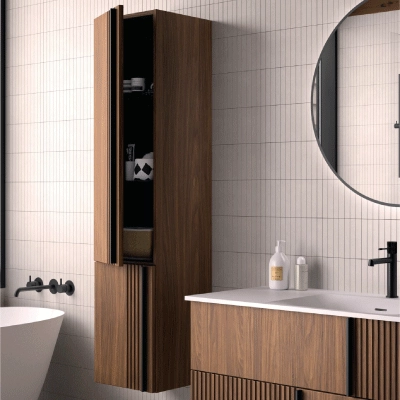 To complete the Canopée range, we have created storage columns. 1 or 2 doors.
Available in the same decors as the cabinet, left or right-hand hardware with ribbed fronts and the same handle.
than furniture.
Depth 35 or 17 cm.
Height 154 or 104 cm.
Available in 1 or 2-door versions.
Left or right-hand locking.
Column depth 35, height 154 cm
1 door: 365 x 1536 x 354 cm
Straight fitting
CAN68
Left-hand hinge
CAN69
Column depth 35, height 104 cm
1 door: 365 x 1042 x 356 cm
Straight fitting
CAN54
Left-hand hinge
CAN55
Column depth 17, height 104 cm
1 door: 365 x 1042 x 174 cm
Straight fitting
CAN86
Left-hand hinge
CAN87